Keri from Grapevine, Texas, sends us this ghost pic taken at the notorious "Myrtles Plantation" while actually spending the night in a room at the haunted mansion.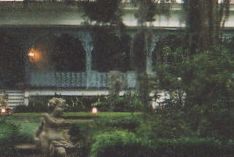 (dark figure in center of photo)
"It really creeped me out when I got it back (the film) knowing that something was looking at me! My friend and I stayed in a room at the place that was supposedly the center of psychic activity. We had the temperature set at 72, but felt like 30 the whole night, I was frozen in the morning which is one reason why I got up early. Also heard noises that night and our door opened by itself before we left that morning and it was shut tightly. Very creepy, I hope to go back one day and get more pictures! :) PS-Oprah Winfrey stayed in our room as well, (awhile back) and during the middle of the night she felt cold fingers on her neck and had to leave immediately, she got so scared that she sent her producer back for her things". Look in the center of the picture, and you will see a human-like form moving across in front of the porch. (There is, in fact, absolutely nothing in that spot in front of the building,) and the management has asked Keri for permission to use the photo in advertising for the Plantation.