If You Associate With Aliens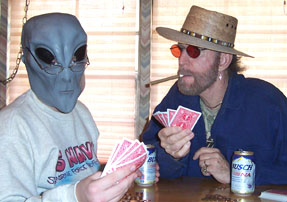 Will You Be Alienated ?
I grew up laughing with George Carlin as he fought the media battle over the "seven dirty words" you couldn't say on television. In "George Carlin Strikes Again" he quips..."If you take an Oriental person and spin him around, does he become disoriented?" With apologies to George,(and Oriental folks) after a couple years of public exposure to the internet via my website, I must say that an adaptation of that theme ("If you associate with aliens,,,,") sure fits some of my experiences lately.
The difficulties of publicly discussing the probable reality of UFOs, Aliens, and such concepts are well known. The media, the government and military, religious organizations, and other conservative forces, (mixed with a general reluctance of the human ego to volutarily wade into a quagmire of doubt, heckling, and outright name calling) are adequate to seriously affect the exposure of truth in such matters.
One would think that the subject of life after death might be more readily accepted in polite conversation, but that too has its problems...
While at the local grocery store some time ago, I caught an acquaintance of mine out of the corner of my eye as he quickly turned his shopping cart around all the way at the other end of the aisle. It was obvious to me as he feigned looking away from me while scanning the top shelf, and scurried off around the corner and out of sight, that he was hoping to avoid me. The reason? Well, this person and I have had, in the past, some lively (and friendly) conversations about ghosts and aliens and such. It was never more than that untill he took a close look at my website, and our conversations took a turn towards a part of reality that this person was not ready to accept. The last time I saw this person, he asked me in a polite but doubting manner if I had ever thought that I might be allowing demonic presences to communicate with me, and was EVP considered to be "against the church"?. I was quite surprised at that statement,as he had never given me any indication of having any such antiquated religious ideas. Instantly I knew that there was no way I could give him any kind of explanation that would be accepted; there was no way to even get a good start, as he obviously had his mind made up anyway.
I had made an error in even bringing up the subject with him in the first place without first feeling out his background and experiences regarding this highly controversial subject. I quickly learned that if I did not want to "alienate" myself from almost everyone I met, that I must let the subject come to me, from those who would have enough of an open mind to bring it up, and NOT try to pass on the benefit of my extraordinary experiences to anyone who did not ask me first. Funny thing is, the subject of ghosts will usually start a lively conversation in any crowd, and it seems that almost everyone has something to contribute. But when one like myself, who has more than just a spooky story to tell, speaks up and backs it up with some very interesting evidence, people scatter like somebody was passing the hat for donations. Many STAY scattered. Yep, you can be "alienated" alright if you're not careful.....
What on earth is the reason why many people can't bear to talk of the unknown? ...to seek validation of life after death?...or to accept the notion that there is other than human life in the vastness of our universe and that other dimensions may exist ?...Is it that they are afraid? Or maybe they just don't have time in their constant materialistic struggle within society to devote time to such things that don't immediately benefit them? Maybe both...and more........
Many have written at length on the complex issue of narrow mindedness or skeptism, and never really completely covered all the reasons for this aspect of the human personality. Maybe thats just because we all are such unique spiritual creations. It could be said that we each (even skeptics) deserve an entire book to explain our purpose for being , and to explain our goals and lessons that we each have selected to learn from our life here on earth.
I wish our brains were like computers. Pop in a disk and bingo. Software installed, ready to go, nothin' to it. But not so for the human brain. The process of learning for a human is complex and lengthy. Children must learn "how to learn" before they can even begin to assimilate information. As a baby we are forced to go through a process of learning everything by trial and error. We can't even learn to walk without first falling on our face hundreds of times. Some of us still fall on our face now and then. A child's mental development is so sensitive, that during early years any aberations, trauma, or unusual activity around the child can, and often does, result in serious affectations of attitudes and abilities later in life. Of these aberations, lack of love, and fear, rate high on the list of devastating things that can affect a childs mental well being and alter their lives for ever. After surviving childhood,( no small feat), we then must plod carefully through our lives with survival and accomplishment in mind.
Because we all must take a large part of our lives to search out and find solutions to the problems with which we are faced, we only begin to get a vague picture of our true selves and our spiritual purpose by the time we are beginning to feel "old". With age, comes wisdom. Indeed, ask older folks what they think about their accumulation of knowledge in respect to their age and various stations in life. All will say that looking back, they realize how little awareness they really had at each decade of living, and will add that as they get older they get wiser, thinking that only lately are they finally beginning to "get it". Alas, ask them again in another 10 years, and they will submit to the same realization ......they "thought" they "got it", but NOW, they know it's the real thing !.heh, heh....ask them again in another decade!.... there is no end to the accumulation of knowledge, no finality of wisdom, and thats only a small part of it. The rest of the story doesn't come till later........after this life.
What's that got to do with people being "closed minded", and alienating or ostricizing those who speak of knowledge from beyond? Well, in respect to "spiritual awareness" as we discussed above,here's one reason; We are born into the world with spiritual purpose and we cannot fulfill our purpose if we are bombarded with full knowledge of our spiritual existance. That would seriously affect the outcome of the experience , wouldn't it? It takes us most of our lives to make some sense of the tribulations placed before us, and the rest of our lives to do something with that knowledge gleaned.It makes sense that we must maintain some distance from our spiritual selves while still learning our lessons here on earth.
Many of us will seek a connection with a church or religion, being guided by the very inner nature of our soul. But most of us will not allow ourselves full spiritual disclosure, and knowledge from beyond, till we are ready. Thus many peoples' relationship with the earth-bound religions may be but a mere shadow of the truth. As we grow older, many people begin to break down the self constructed barriers, and allow themselves to gradually add awareness of higher truths to the wisdom gained from their lifes previously planned experiences. True awareness begins......
Does that mean that our lives are detailed and planned with consequences of fate? No. We have free will, and we will fail many times. That's the point. When our free will begins to lead us on the spiritual path properly chosen, we are becoming closer to God. We are accomplishing what we set out to do.
So next time you set out to prove the existance of ghosts to someone, be careful. They may not yet be ready for that. But they will. Oh yes, they will...eventually.......... Rich
PS By the way, I have a confession to make about the above photo. In the interest of avoiding any misunderstandings, I am a non drinker and non smoker. The above pictured items of that description are just props for a "gag" effect. In my younger days, I wasn't above tipping a few cold ones, but now, my body needs all the help it can get. You will notice the big NA (non-alcohol) on the Busch can, and honestly,if I were to light that cigar, I'd be sick for a week...LOL