The Sheriff's County Jail
Globe, AZ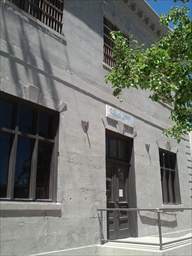 Mary's cousin Barbara had told us that many in the town believed the old Sheriffs Jail to be haunted. Taking the cue, Mary and I set out for the old building and quickly located it on a side street down at the lower end of town just up from the railroad. Unfortunately, we found that the Jail was open to the public only on week ends and today was a week day. No problem...we just got our digital recorder and walked around the outside of the building while asking for spirits to speak to us outside. We have done this many, many times and it always works (at least for the more energetic and talkative ghosts).
I asked, as always, for the ghosts to give their name and received a most curious reply immediately!
EVP "Ronald...watch me, I'm trying to make POWDER" wow, a jailbird named Ronald is planning to bust out of jail!
And then a cryptic comment from an observer...as if he's making sure we know what we are hearing!
EVP "That's a Ghost"