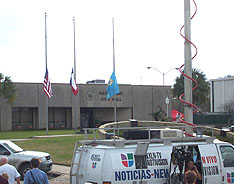 Flags at half staff at Nassau Bay City Hall
There, at the foot of the large stone sign at the entrance, a monument of rows and rows of flowers, posters, balloons, cards and people somberly stood vigil. The atmosphere was respectful, reverent and quiet. People spoke softly when they spoke at all, and none were ashamed to show their tears when the occasion arose. It was impossible to not get a lump in your throat, even if you were the baddest and the bravest one there........
Well, you know me, I'm not going to go anywhere without my recorders, so I let the digitals record while I was there, and I wondered if the spirit world would speak to me with a message in this type of tense circumstance. And indeed, we do have here some very appropriate and relevant words captured by the digital Electronic Voice Recorders of Paratexas.com.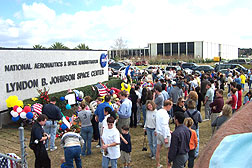 A crowd of hundreds gathers at NASA