In an EVP session one month before the storm, ghosts warn Rich of "dangers in the state of Texas" !
(click on above to hear actual spirit voices recorded in EVP session one month before Hurricane IKE blasted ashore at Galveston Island and tore through the state.The hurricane scored a direct hit on Alvin, Texas as well, (Rich and Mary's hometown) delivering winds up to 110 mph continually for eight straight hours !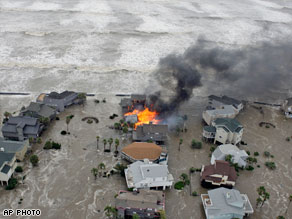 Tidal surge shown here enveloping homes on Galveston Island as Hurricane IKE slams into the Texas coast...
In above message, a spirit is advising Rich of the possibility that a cataclysmic event could occur at some point in the future of the Gulf Coastal area.
Above photo taken on Galveston Island after hurricane IKE left devastation in it's wake.....